Cerro Caledonia


---
My thanks to The British Moutaineering Council, John Earle and Tom Barcham for all their help with this special feature


The British Mountaineering Council website
Santiago, Chile, was served by British United Airways from November 1964 when the route was flown by the Vickers VC10. The route to Santiago was flown twice a week calling at Las Palmas, Rio, Buenos Aires. Monday's service (Flight BR663) went via Lison and Thursday's service (Flight BR661) via Madrid.

From November 1972 the route was served by BCal's 707 fleet and then in 1977 the DC10s started to takeover the run. On the 22nd October 1977 Bravo Lima (BEBL) flew from Gatwick to Santiago (via Recife and Sao Paulo) in 15 hours and 40 minutes.

An expedition to explore the Tierra Del Fuego in Chile was planned by John Earle and it was sponsored by British Caledonian. This included the expedition teams' flights and transporting all their equipment to Santiago.

The expedition team left for Santiago on 28th December 1978. They flew the 7,300 miles to Chile on BCal's BR661 DC10 service which left Gatwick at 20:30 hours that winter's evening. Below is the account of their exploration, it is a fascinating story. (I have added in some photos to John's work)

The Exploration of Tierra Del Fuego 1979
by John Earle
During the early 1960's I was fortunate enough to be invited to join two expeditions, one to South West Patagonia and the other to the Darwin Range - Tierra del Fuego, with the eminent explorer and mountaineer Eric Shipton. The aims for the expedition to Tierra del Fuego were to explore the eastern end of the Darwin Range and climb some of the large peaks in the area. For this expedition we had the generous help of the Chilean Navy who took the four members in the ocean going tug, Cabralas, from Punta Arenas, to the Beagle Channel and put us ashore at Puerto Olla, a small bay near Devilís Island and the divide of the channel.

During the four weeks that we were there, we explored an area of glaciers, mountains, rock ridges and high glacial plateaux of some 50 square miles and made first ascents of two peaks, Bove (8,100ft) and Frances (7,900ft). we attempted to reach a third peak called Roncagli but bad weather and lack of time prevented this and in any case, in Eric Shipton's opinion, it looked a difficult peak, demanding climbing of a high technical ability that had not be previously attempted in these storm bound mountains at the end of the world.

When we had finished our work in the mountains, the Chilean Navy picked us up with a small vessel called the Beagle and on our voyage to Puerto Williams, the Chilean Naval Base on Navarino Island; we put into Yendegaia Bay and anchored off Eustancia Yendegaia for the night.

It was a remote and fascinating place and from here a broad, flat, alluvial plain ran between sharp, rocky peaks north west towards the Stoppani Glacier some ten miles away. Yendegaia was the sort of area that fascinated Eric Shipton and always with an eye for new and interesting areas to explore, he had discussed with me many times back in Britain, the plans for starting an expedition at Yendegaia. It seemed a possible route to reach the unknown and unexplored glaciers and. mountains further north than Bove and Frances where we had been on our previous trip; the great Stoppani Glacier and its tributaries seemed to lead into the area. Another possibility was that by approaching Roncagli from the north and west or circling round it, an approach to the summit might be found. Sadly this was an expedition that Eric Shipton was unable to carry out before his death in early 1976.

When it became apparent that I was likely to be able to make a return visit to Tierra del Fuego in 1979, I started to study the very sketchy maps of the eastern end of the Darwin Range and especially Yendegaia and tried to remember the Eric and I had had about an approach this way. After considerable deliberation, a plan resolved itself to try and cross the glaciers and high glacial plateau from Parry Bay, a fjord that runs south deep into the mountains from Admiralty Sound, to Yendegaia and if possible to make an attempt on Roncagli from that direction.

To do this, once again, I needed to have the co-operation of the Chilean Navy and so began the long and laborious business of expedition planning, obtaining political permissions and visas, making contact with various authorities concerned including of course the Chilean Navy. Everything takes time when one is dealing with a country on the west coast of South America and stretches down as far as the Antarctic. Several details were only settled in the last few weeks before our departure.

As well as this work, I needed to buy the food and equipment necessary for a four man party to live and climb for five or six weeks in the Darwin Range.

Finally and most important of all, I had to make up my party of three other members, I spoke and wrote to quite a number of my old climbing friends, many of whom had had previous expedition experience but all of whom had jobs or other commitments that made it impossible for them to join me. I also invited Iain Peters, a rock climber of great ability, to join the expedition, knowing that he had an interest in the forestry industry and connections with Lord Bradford who has been concerned with experiments with the Nothafagus tree (the Southern Beech) in Britain. This proved a lucky decision as Iain Peters was able to develop, in conjunction with the Forestry Commission a programme of collecting seeds of the Nothafagus, while in the remote parts of Tierra Del Fuego; a valuable scientific addition to the expedition. At a later date I invited David Harber, another young rock climber to join us and only a few weeks before we left Don Sargeant became the fourth member of the party, when one of our original team had to withdraw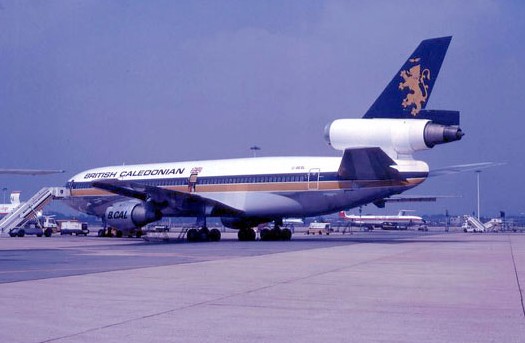 Bravo Lima in 1978
(she was repainted into her final BCal livery in 1979) www.british-caledonian.com
The expedition looked all set to go and with most generous sponsorship and help from British Caledonian Airways, a grant from the Mount Everest Foundation, part of which came from a lottery run by Bass Charrington for the M.E.F. and a grant from the British Mountaineering Council, the financial side seemed fairly healthy.

I do not suppose there is any expedition that has not had its moments of worry and anguish, with new and unforeseen problems apparently round every corner. All had gone very smoothly until our departure on December 28th, 1978, but hanging over us before that date and indeed on our arrival in South America, was the extremely tense political situation that existed between the Argentine and Chile over territorial claims in the Beagle Channel area; the very area we wished to visit. It looked as if the two countries were poised on the brink of war and Tierra Del Fuego was a military zone. This situation was the cause several minor setbacks and delays that eventually forced us to change some of the expedition plans.

White Don Sargeant, Dave Harber and myself continued our journey to Rio Grande on the Argentine side of Tierra del Fuego for filming commitments, Iain Peters went to Punta Arenas, firstly to keep an appointment with the Commander of the Third Chilean Naval Zone, Captain John Howard, who had been kept fully informed of our expedition plans, and secondly to meet and discuss the plans for seed collecting with the Chilean Forestry Department

It was from this time that nothing we planned seemed to dovetail and unavoidable delays here followed by the need to make return journeys earlier than expected there; began to eat into our money and the available time for the actual climbing expedition.

Iain Peters discovered that Captain John Howard had been posted back to Valparaiso and the new Commander had not yet settled into his Post and in any case was away arranging his move south. Quite understandably with the tension still pretty high between Chile and Argentina, though war had been averted, the Third Naval Zone at Punta Arenas had more to worry about than a small British expedition trying to get to the Darwin Range. Iain also found that there was not as much work to do with the Chilean Forestry Department as he had expected. In discussion with various people in Punta Arenas, including Mr. A. D. King, the British Vice Consul and his secretary Mr. George Boyd who were both extremely helpful during our stay, Iain had discovered that there was one flight a week to Puerto Williams by Lan Chile, but controlled, and administered by the Chilean Navy. If the expedition could get there, it might be possible for Patrick Maclean, who runs a crab canning factory on Navarino Island, with his father Mario, to use one of their crabbing boats to get us to Yendegaia. Clearly we had to abandon the crossing of the glacier from Parry Bay to Yendegaia and concentrate on exploring the peaks and glaciers to the north and east of Roncagli, running off the Stoppani glacier, having first landed at Yendegaia.
Iain cabled me in the Argentine suggesting that we should join him in Punta Arenas as soon as possible, but the quickest way to do this was to travel by bus from Rio Grande, in the Argentine, to Porvenir in Chile and then cross the Magellan Straits by ferry. Again because of the political situation, the schedules of this bus were uncertain and in any case it was only likely to travel once or twice a week. By the time we had finished our filming and booked seats another week had gone by and when at last we arrived in Punta Arenas, the flight for that week to Puerto Williams had gone and we had to wait till the following Friday.

One advantage of this enforced stay was that we were able to study the aerial photographs of the Darwin Range at the Instituto de la Patagonia, an admirable organisation that carries out research and scientific work of a high order and also provides a most interesting museum, small zoo and various other exhibits to do with Patagonia and Tierra del Fuego for the non-specialist. Dr. E. Pisano from the Institute gave us tremendous encouragement and help and Iain promised to make a small collection of lichens, mosses, plants and insects for him. We were very willing and happy to give a report of our observations and activities for the Institute for future reference.
Also with the help of Mr. George Boyd we were able to make arrangements for the Chilean Navy to take our massive amount of food and equipment, packed in kit bags, by sea to Puerto Williams to wait our arrival later by air.

With our time whittled down from six weeks to four, we arrived at last, by air at Puerto Williams at the end of January, two weeks behind schedule. But from this moment our luck changed. Within an hour of our landing there, Commander Gaston Droguett, who was in command of the Naval Base and the whole area of Navarino, had made arrangements for Iain and me to fly by helicopter to Yendegaia to fix final details of permission with the Estancia owner.


It seemed too good to be true to be standing at our starting point, albeit for a few minutes. In that time we arranged for horses to carry all our food and gear and ourselves up to the snout of the Stoppani glacier and we eventually all arrived.

The pilot of the helicopter, Lieutenant Gudelio Mondaca, asked if we would like to have a quick look at the Stoppani glacier and within minutes we were flying low over the enormous jumble of huge crevasses. It was incredibly lucky to carry out a reconnaissance by air of our approach to the mountains and we were able to confirm several of the details we had seen in the aerial photographs. Some of the queries we had, we cleared up, but other problems could not be resolved until we were down there to see if it was possible.

The Stoppani Glacier - Chile