Since researching the terrible accident that befell G-ARUD in the early days of Caledonian's operation for the website and later the book, The History of British Caledonian, Douala has cropped up in numerous places.

The accident at Douala naturally features in the Interview with Sir Adam, and earlier this year I had an email from a lady in South Africa who was trying to find out about it; her grand-parents were on board. I sent copies of all I had of course to help her search. Another chap in South Africa has written a synopsis of the accident, in no small part based on the web page we did a few years back.

At times it almost seems like Douala is whispering "don't forget I'm here" as it comes up so regularly but always from out of the blue.

It has been many years since the site was visited, some 33 years at the time of writing this. On BCal's resumption of services to the Cameroon; Thomson instructed that the memorial be refurbished. This was back in 1981.

Following the events of 1988 it became unclear what would have happened to the memorial for the 111 passengers and crew of flight CA153, and I could find no further reference to it. The report I did into the accident a few years back (link below) stopped short of finding the memorial, thus with somewhat limited information, and the internet, the search was on to find the memorial and complete the story.
---
Where to start

Africa is a big place, but thankfully there was a start place, Douala. I have never been there and with the current health / Ebola issues in West Africa it is not on the travel list of many people. So a paper chase was needed, coupled with the internet and relying on the web's good side.

A clipping from the London Times, March 1962, stated that the 111 passengers and crew were laid to rest in a communal grave that measured 150ft long. This is not a small grave and later a memorial stone was placed there.

Initially I started looking at photos of church cemetary's in Douala......there are quite a few and over the years more and more photos have gone online. One initial lead led me to the Commonwealth War Graves Commission, they have a site in Douala they tend. They were very helpful, sent photos, but none resembled the photo I had of the memorial in the archive.

To the right, is the only photo I have in the archive of the memorial stone.

This image has not been altered or made worse, so you can see it was not the lead it could have been. But it does show a tall obelisk like structure so all was not lost.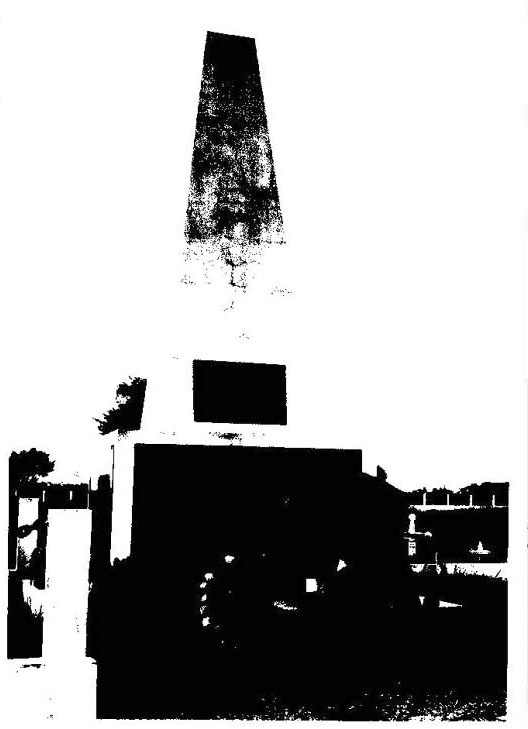 Local Newspapers

Armed with the memorial image, emails and letters were sent into Africa and the local newspapers in and around Douala in an attempt to spark some interest there. Using English and translated French I had hoped to find a response there, but after a few months it was clear nothing was coming from that avenue. So the trail, for now, went cold and a good few months pass.

Then I get the email from the lady in South Africa looking for information on her grand-parents and with renewed purpose, the search is on again.
Satellite Mapping / The London Times clippings

There are now many freely available satellite images available online now, Google Earth probably being the best known. And if you are in central London or New York you can indeed nearly see the coin on the pavement. (Gatwick looks good too...very detailed).

Douala International looks very much like is probably did in 1962 when the accident to CA153 took place.

Suffice to say it is also not subject to detailed satellite imagery and the local government has other things to spend its money on of course. Also, there are restrictions in many countries about taking photos near airports and this includes satellite images.

But a review of the 1962 London Times clippings revealled an important point that I had misssed. The Times reported the grave was "next to the airport's runway". Douala still only has one runway.
So now, another hunt around the Airport boundary and I came across this satellite image from Digital Globe and it looked like it could well be a cemetary to me....also it filled the "next to the Airport's runway" criteria.
Aside from making a leap of faith that this was the cemetary next to the runway, more was needed. Streetview does not cover this area. But a map, see inset, from OviMaps seemed to provide some structural information and within the "cemetary" area was a long, thin outline.

Could this be the 150ft communal resting place of all onboard CA153, and that which was refurbished by BCal at Thomson's behest in 1981?
2014 - Return to Douala

Now, something solid to work with and a location in which can be narrowed down to a few feet to anyone who knows the area. I do not. But a series of emails fly out of here heading to Douala and this time a reply. A few weeks later, one message found its way to a local chap, committed to his local church and who also knew the area well being a Doualan local.

The cemetary images, shown above, were sent down to him, and this is where the benefits of a digital / mobile society help. No matter where you are, someone has a digital camera or phone with a camera on it, though they still needed a bit of greasing. A few days later a series of photos started to appear on email..........coupled with an email saying the grave was indeed that long thin strip shown on the maps next to the runway at Douala.

I was unsure what to expect, would it be heavily overgrown, there was always a fear it may not be in good order.

But here we have the first photo of the memorial to the passengers and crew of CA153, possibly in some 52 years, and I am pleased to say that the memorial is still there, not overgrown and receiving light maintenance ie grass cutting and weed control.
But before we go on with more photos of the memorial and the site, I would like to remember the crew of Caledonian 153.


Arthur Henry James "BIll" Williams - Captain and Aircraft Commander

Allen Kennedy Frost - Training Captain

Gerald Dennis "Gerry" Walman - Captain / First Officer

Francis Harold Douglas Strong - Chief Navigation Officer

Thomas Charles "Mac" McArthur - Chief Flight Engineer

Peter Deane - Flight Engineer

Albert George Legg - Flight Engineer

Edith Tiplady - Air Stewardess

Elizabeth Barrie - Air Stewardess

Ruth McPherson - Air Stewardess


Their aircraft, G-ARUD, a DC-7C on lease from Sabena suffered the smallest of issues; a jammed spring tab on an elevator. Sadly this made the aircraft very unresponsive and despite all efforts they came down just past the end of the runway.

The extremely hot and humid local conditions made it impossible to repatriate any of the 10 crew and 101 passengers and they were laid to rest together alongside the runway in Douala.

No doubt the cemetary has become fuller over the years, but the 150ft grave is edged with stones.....the outline that was picked up on the OviMap. The memorial stands halfway along the length of the grave and it is around 8ft / 2.5m tall. Below is a not-to-scale drawing of the area which may help with the photos and what they are showing.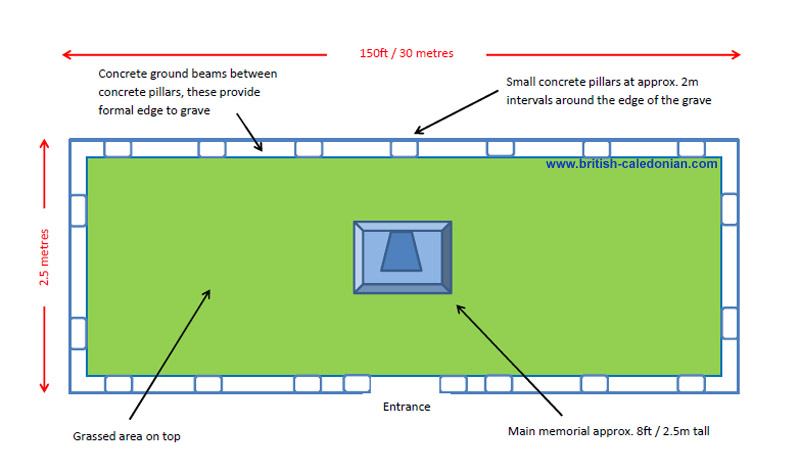 It is good to see that it is still there remembering those laid to rest so far from home

It was probably never lost to those in Douala, but now it is found to us.....we will drop in again in a few years time I'm sure

My thanks go to Alastair Pugh, Tony Cocklin and Trevor Boud for their kind advice with this page