Yvonne Pope
Britain's first female pilot



---
If anyone has any information I would be pleased to show it here, please drop me a line anytime email
Yvonne Pope Sintes only ever wanted to fly. But in the 1950s, very few women were allowed into the male dominated world of aviation. Whilst many women were consigned to the role of house-wife, Yvonne chose a different path. Her dream was to join the ranks of the Royal Air Force, crisscrossing international skies. Despite an awareness of the pitfalls that might await her, she embarked upon her mission.

Her story, told here for the first time and in her own words, is one characterized by gritty determination against the odds, a startling level of achievement and a continually modest approach to life and her own accomplishments. A career trajectory marked by such landmark achievements as becoming the first female Air Traffic Controller with the Ministry of Aviation, the first female civil airline pilot in the UK, and the first female jet airline captain in Britain are relayed in this inspiring autobiography. Bomb scares, engine failures and other perilous episodes punctuated Yvonne's experience. All are enlivened during the course of the narrative.

A raft of prestigious awards including the Brabazon Cup, the International Owner and Pilots Association award for best Air Traffic Controller in Europe, the Amelia Earhart memorial Scholarship for licensed pilots to advance in aviation, the Whitney Straight Award for courage and determination in pursuit of an aviation career (awarded by Princess Anne) and the British Airline Pilots Association Award for work towards air safety - all were awarded to Yvonne during the course of a spectacular career, the details of which make for a truly inspiring and engrossing read.

Yvonne has taken this opportunity to record the pitfalls and landmark successes of her career for posterity. She does so in a style that is at once both humble and immensely celebratory of a profession that has meant so much to her.
---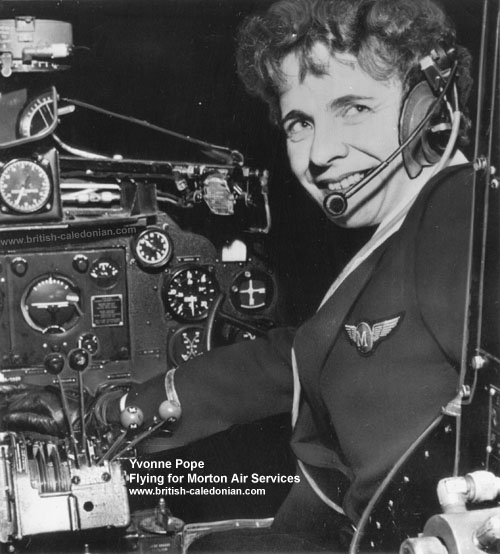 Yvonne Pope was 34 years old when she became Britain's first female pilot for a major airline; she would be flying for Morton Air Services.

Having previously been an Air Hostess she was taught to fly by her husband; himself a pilot.

The photo, to the left, shows Yvonne in the co-pilot seat of a Morton's Daktota at Gatwick Airport. Yvonne was soon to start co-piloting Morton's DC3's between England and Europe. The photograph is dated 5th January 1965.

Trailblazer in Flight
by

Yvonne Pope Sintes
Yvonne was interviewed by the BBC,
this was shown on 30th December 2013

The clip can be seen by clicking here
Yvonne went on to be Britain's first female pilot of a commercial jet too. Yvonne has now written down her memoirs and the book is now available for sale in hardback. All the details below.
From Flemming Christensen
In 1965 Yvonne Pope was Co-piloting a DC3 for Morton Air Services from UK to UK forces in Germany. On the return leg the flight went via Billund Airport, Denmark and picked up live chickens for UK. This was a weekly flight over a long period I recall.
Here is a photo of tone of the stops in Billund.