Airwork
Egypt and The Pyramids

Please, if you have any photo's you can share or show on this site, please drop me a line anytime, bcalatribute@outlook.com
Just 13 months after starting Airwork, the directors were looking for opportunities to further their aviation interests; and Alan Muntz visited Egypt in November 1929 with a proposal to start an airline in the region, they would initially offer services between Cairo-Aswan and Cairo-Jerusalem.

Airwork's proposal would see them take over the Almaza Aerodrome, which would be their operations. They would offer flight training, aircraft sales, maintenance and repair. The details were worked out over the following two years, Airwork would jointly finance the venture with Egyptian Bank, Misr.

The Egyptian Parliament opened on 17th December 1931 and it was announced that full agreement had been reached for the formation of an Anglo-Egyptian airline with Airwork, Banque Misr and the newly formed Egyptian Aero Club.

By January 1932, Alan Muntz was again on his way to Egypt to start setting up the airline. It would be called Misr - Airwork initially, (Banque Misr - Airwork), then Misrair. Misrair became solely owned by the Egyptians in 1949.

The name changed later to United Arab Airlines, and finally the national airline of Egypt, Egyptair on 10 October 1971.

Below we have some literature from those early days.
---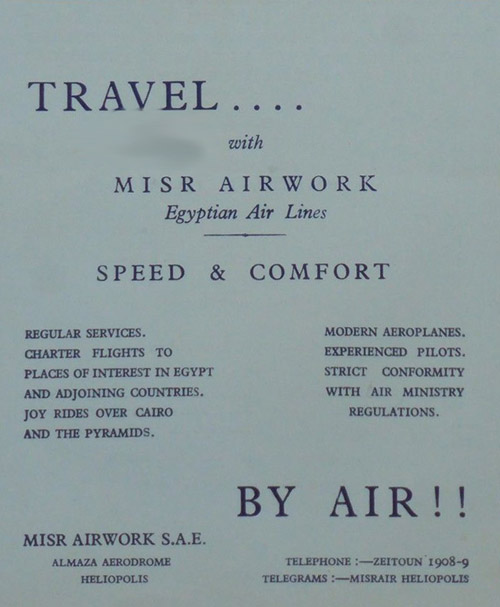 Above - a leaflet promoting Misr-Airwork Services

Top right - One of their Dragon Rapides SU-ABI

Right - A leaflet promoting Misr-Airwork services by Air

Far Right - A 1934 Misr Airwork Timetable

Below - Real life meets advertising.
A Misr-Airwork Rapide, SU-ABJ, overflying the Pyramids - no doubt the inspiration for the early travel poster