Captain Denis N Robinson

Please, if you have any photo's you can share or show on this site, please drop me a line anytime, email Dave
---
I was wandering around the internet the other day when I happened across a World War II Battle of Britian collector's card featuring a Denis Norman Robinson. The brief description on the card went on to say Denis flew for BOAC and British Caledonian.

I thought this was well worth a bit more research and found out that Denis also flew for Transair before coming through BUA and on into BCal. But here is a fascinating account of Denis's military career including an interview with Denis from 2010 and a few other items found along the way too.
Denis Norman Robinson was born on 24th June 1918 at Christchurch, Dorset and was educated at the Stationers Company School at Hornsey, London. His father was a military airman in World War 1.

Denis joined the RAFVR in March 1938 and began his flying training at 21 E&RFTS, Stapleford. Later continuing at 26 E&RFTS, Oxford and 22 E&RFTS, Cambridge. He was called up to full time service in October 1939.

He was posted to 152 Squadron on 21st June 1940. He probably destroyed a ME109 on 25th July and destroyed another on 5th August.

Piloting Spitfire K9894 Denis was shot down by ME109s on the 8th August. Robinson decided against bailing out and made a crash-landing in a field near Wareham. He was not hurt but the aircraft was a write-off.

On 15th August he claimed a ME109 destroyed, on the 17th August a Ju 87 and on 4th September a Ju 88.

On 26th September he was posted away to Central Flying School (CFS) Upavon, the RAF's Instructor Training school where Military Flight Instructors are trained.

Commissioned in January 1941, he remained there until November 17 1941, when he was sent to instruct in Canada, firstly at 39 SFTS (Service Flight Training School), then briefly at 35 SFTS, and finally at 32 OTU (Operational Training Unit), until 19th June 1944 when he returned to the UK. He then went to 109 OTU, Crosby on 27th August 1944 to convert to transport aircraft and on 1st March 1945 he was seconded to BOAC at Whitechurch.

Flight Lieutenant Robinson was released from the RAF in 1946 and joined BOAC as a civilian pilot.
Following his training at CFS Upavon, Denis was now a Flight Instructor and from 7th October he was instructing new pilots at 6 FTS (Flight Training School).

Denis's Spitfire, which he stayed with all the way down.
Denis continued his flying career with BOAC until 1956. I found this article in the June 1956 edition of Transair Review. So Denis would have been flying out of Croydon at that time, before Transair moved to the new Gatwick Airport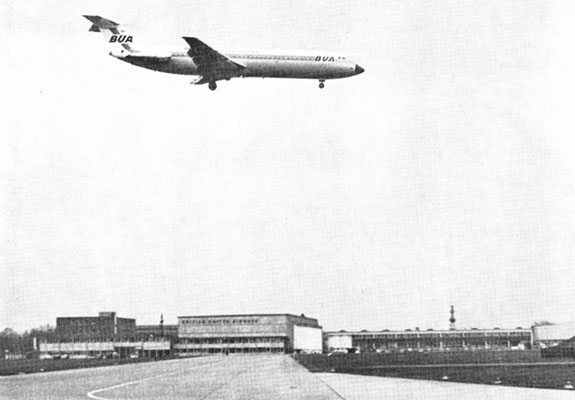 Denis continued on into BUA becoming a 1-11 Captain before rising to Chief Training Captain (1-11s); a role he held for five years before two years as 1-11 Fleet Manager.
Denis, on the right, pictured here with Captain Stan Websper. They have just arrived at Gatwick having flown G-AWYR from Hurn on its delivery flight into BUA service.
www.british-caledonian.com
www.british-caledonian.com
Denis retirement was reported in January 1974's BCal 1-11 fleet report