Bob Norris


Sadly Bob passed away on 10th September 2014 whilst on one of his regular visits to Cuba from his home in Port Credit, Ontario. Our sincere condolences go out to Bob's family, friends and former colleagues.
Bob was with the original Caledonian in Canada, joining in 1964, and he was soon based in Caledonian's new Toronto office early in 1965. By June 1967 Bob has risen to Vice President Sales - Canada.

He later came to the UK to take a senior post in the BCAL North Atlantic sales team and worked on the "Roar In" campaign that heralded BCal's first scheduled services to New York and North America.

After his time as RSM North Atlantic Bob went onto work in South Atlantic Sales as RSM South Atlantic.

1976 saw Bob working as a Route Development Manager before he joined the BCAL hotels subsidiary, CHM as their General Manager Sales and was based in Majorca.

Bob can be seen here, seated (right hand side), with colleagues from the Roar In Campaign in 1972.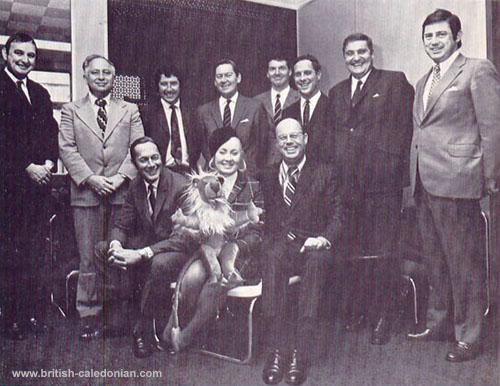 Standing Left to right:- Brian Folley, Murray Vidockler, Chris Tear, Ian Ritchie, Peter Clegg, David Gerrard, Gordon Mason and Tony Cocklin.
Sitting, L-R, are Pat Barrass, a stewardess (?), and of course, Bob himself
---
Bob Remembered
From Roger Phillips : Bob was one of life's most likeable characters and a lovely guy to have as a colleague. Sad to see you go Bob, RIP

From Ana Eva Hueberger : Oh no, I knew him so well! RIP

From Angela Martin : RIP Bob joining so many wonderful Bcal people in the party room in heaven, condolences to his family.

From Adelaide Campbell : I am so sorry. I had hoped to meet him down there [Cuba]. RIP, Bob.

From Lesley-Ann Hutchison : Very sad to hear we've lost another of our family.....RIP Bob.....God Bless xxxx

From Christopher Lamb
Very sad today - Bob Norris was a friend for over 40 years and my best man at our wedding in Bahrain in 1976. A really great, genuine and generous person - numerous visits to the Gatwick Aero Club [as was] and later The Rifleman in Warninglid [also closed] - he visited us some years later in Bahrain and Tehran and we had some great times in Palma during his stay there. When we had a chat at the end of last month, he had no plans to go back to Cuba until the Canadian winter kicked-in so obviously his plans changed. RIP Bob

From Alan Reeves : Sad to hear of Bobs passing, he goes way back and was a stalwart of the transatlantic...

From Alayne Hunter : Sad news indeed. R.I.P Bob.

From Lynne Le Maitre
Last Thursday, 11th September, we had the Guernsey Battle of Britain Air Display. For some reason I told my daughter the story of how Bob Norris in Toronto and his lady friend of the time at Gatwick (not me) had a certain star that at certain times of night they could both, though 1000's of miles apart see and know that the other could see it as well. It was so lovely that I have remembered that for all these years, since 1966 in fact. It would be nice to know that Bob is now looking down from that star that he chose all those many years ago. It seems so strange that I should choose to remember that story and Bob last week after all those years . RIP Bob. X"

From Mike Platt Oh dear. I knew Bob well. A really nice guy.

From Barbara Mountford
R.I.P Bob, my dear friend. He just spent Christmas 2013 with me here in Portugal. It was such a pleasure to see him again after about 30 years. I worked for BCal in Rio de Janeiro as the Sales Manager's Secretary. Bob came to visit Rio quite alot and usually stayed with me and my husband. He was a great person, so affable and very entertaining, always with a jolly laugh. We had some great times with him. Having just made contact with him before Christmas, it is a shame that the time of our reconnecting with each other was so short. Bob will be sorely missed!

From David Holder He was a real gentleman, remember him well from those real early good old days. RIP Bob

From Chris Tear
Bob was a one-off with great knowledge of the business that he was always ready to share. It was a pleasure to work with him and he was great company. One abiding memory was when he turned up for the start of the Roar-In wearing a Stars and Stripes kipper tie that was so long it reached the ground when he was standing up! RIP Bob.
From Martin Harewood
A dear friend and colleague whose warm and generous nature endeared him to so many. You knew that in his company a laugh was always only a moment away. He will be sadly missed. Rest in peace, dear Bob.

From John Morgan
Oh! What sad news. Bob was my first boss in Sales and a good man at heart. He gave me the opportunity to sell BCAL services for East & Central Africa, I took it with both hands and had a great time & learnt such a lot from Bob. My sincere condolences to his family.

From Rohan Alce
Bob was a friend, boss, colleague and mentor and will be sadly missed. In 1971 on Derby Day I flew with Bob from Heathrow to Toronto to take over from him as Manager, Canada. Not only did I inherit his job, but also his apartment, his furniture, and his company car. The only thing he didn't pass on to me was his little black book containg the addresses of his lady friends! That was the start of seven very enjoyable years in Canada where I was introduced by Bob to a group of very loveable rogues who were BCal's Canadian charter customers at the time. Each one a character who Bob had nutured to become a loyal supporter of our airline. RIP, Bob

From Brian Day
Very sad to learn of Bob's passing. At the time when I was overseeing cargo sales activity on the South American routes and he was RSM South Atlantic, Bob was a great help and always took a keen and intelligent interest in what was going on. On numerous occasions when one of the down-route country supremos was proving un-cooperative or, more often, downright obstructive, Bob would come to my rescue and sort things out. Nothing was ever too much trouble. A truly lovely man and I know he will be greatly missed by many people. RIP Bob.

From Ray Jackson
I am so sad as I, like others, knew him well. He helped me greatly when I was posted to New York. He was always there to advise. R.I.P. Bob

From Viv & Alan Jackson
I guess I have known Bob for some 44 years, maybe more, and he has long been a part of our lives. I worked with him at Gatwick on the North American Route Sales, South American Route Sales and Central Africa Route Sales in the 1970s. When he eventually transferred to the Hotel Group in Palma we were his guests for a tour of the island.

Bob was born in Sao Paulo; Brazil, and became a citizen of Canada. In recent years he kept very much in touch by mail and regular telephone calls and paid us visits in Lancashire. On one visit, following the loss of his sister in 2006, he declared himself an "Orphan" having no longer ant living blood relatives.

One day he also announced that his Father, whilst buried in Peacehaven (Sussex), had been born in Oswaldtwistle; Lancashire. This was one challenge we had to undertake on his behalf - to have him disinterred and Fed Ex'd up to Oswaldtwistle Parish Church where Bob's Father is now interred with all his ancestors, Bob's grandfather and great grandfather - all Robert Norris's.

Having begun my own family history research in the Lancashire area with surprising results the temptation was too great and I was astonished to find Bob had an amazing history going back several hundred years; some of which had entered the history books that even he was unaware of.

Along the way I was contacted by some of Bob's cousins, who he was also quite unaware of, and whose own family trees I had inadvertently entered. Bob was thrilled and delighted to meet up with them - one a Doctor in Portugal and another a Lancashire Librarian, in Accrington, who was "hot" on their family history to the point of producing a very large family tree introducing more relatives. These cousins were also the image of Bob, there is no doubt they are family.

Bob recently told us he was in awe of reaching the age of 80 this year (13th December 2014) and we had only just found the right Birthday Card at one of his favourite places that he visited, when the call came through from Bud Fisher, Bob's brother-in-law.

As you can imagine, knowing Bob in these latter years has enriched our lives a lot. We undertook a number of successful challenges on his behalf and still have some to do complete but sadly Bob will not now enjoy them. His late Father, William Norris, served in the RAF across the First World War and has now been selected along with a local Naval Rating and Army Serviceman for an historical exhibition in connection with the centenary of the First World War. Bob would have been so proud.

Bob was such a large part of our lives across some 44 years, his books and prolific writings are all over our house. He was a great mentor - taught me enough - and gave us both great-strength when times were tough.

He will be best remembered by all the laughter and jovial times we 3 shared - there will never be another Bob Norris.
Bob annd Viv - 4th June 2010
Bob - 26th October 2011 - en route to his Father's re-burial in Oswaldtwistle, Lancashire
If you would like to leave a message in remembrance please drop me a line anytime




Close this page




.