BUA Supersonic
British United, like many large airlines in the late 1960's, were looking at Supersonic operations and how best they could utilise Concorde on their services and indeed what new destinations and markets could be served.

But being the largest independent airline by far in the UK, and also within Europe, they were uniquely placed to support a credible Supersonic operation and went on to publish a 4-phase route expansion plan. At a press briefing in London on 9th August 1967, BUA announced they had applied for new transatlantic routes as the first phase of this plan. They would all be subject to Government approval and many would be rejected.
Phase 1-1968
A route London-Montreal and Toronto, an extension to Lima-Peru on the South American service, served from Rio or Santiago

Phase 2-1969
A route London-Belfast-New York and Boston, add Belfast into the London-Canada services

Phase 3-1970
An extension of the South American route from Lima or Santiago to Auckland via Easter Island and Tahiti. The addition of Vancouver on the Canadian services. The Auckland route would provide a mainly over water route suitable for supersonic operations.

Phase 4-1971
A more direct route to Lima, possibly via the Caribbean, and extension of the Auckland route onto Sydney, Australia.
BUA's plans had been worked out with the VC10 in mind and if all the routes had been granted, BUA would have needed seven or eight new aircraft, probably the Super VC10 or maybe the DC-8 Series 60 at that time.

However larger and faster aircraft were being reviewed by BUA's aircraft evaluation group. Their remit also included the BAC Concorde and the Boeing 2707 SST, and in March 1968 BAC / SUD published their evaluation of a BUA Supersonic operation using Concorde. I am pleased to say one is now in the collection.
While the Study was being prepared the old battles between the Independent Airlines and Government continued. On 4th December 1967 the President of the Board of Trade, took a sharp knife to BUA's Four Phase Plan and decimated their applications before then directing the licensing board to refuse most of them.

All that remained were London - Montreal and Toronto and London-Belfast-New York and they would have to go to hearings on both sides of the Atlantic.

By the end of December 1967 BUA had withdrawn the remaining elements of their scheduled transatlantic application. The British Government having wrought too much damage to its commercial viability; also the start of the Edwards Committee meant it was unlikely that any major decisions on route allocation would be made.

The Edwards Committee report would overtake all, the battle for control of BUA would begin; and BUA's Concorde aspirations were consigned to history.
The study presented the results of the performance and economic analysis undertaken by BAC / SUD for Concorde operations by BUA. This was part of BUA's aircraft evaluation and BUA gave guidance in their "Operational Parameters and basic cost assumptions for an evaluation of long haul transport aircraft"; BUA/CPD/24/SM (13th Sept 1967).

The study has five sections
a) Basic Aircraft Data, weights etc
b) Route Study - take off performance, operating assumptions and Route Results
c) Payload Improvement - investigation into restrictions that limited payload
d) Operating Costs - Aircraft cost assumptions and Route Operating costs
e) Payload Range and Generalised Costs - performance and cost charts and graphs.


Basic Aircraft Data
A four page summary of the expected Concorde weights, payloads, fuel capacity. Also the 128 seat capacity with a 34inch pitch.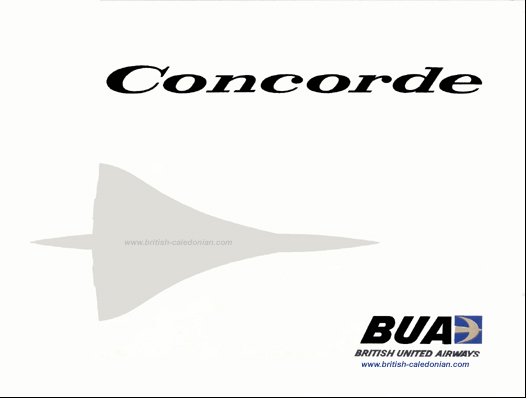 Route Study
In all 44 routes were investigated as part of the study. This was less than BUA had requested; but non-stop services in excess of 4,000 nautical miles were outside of Concorde's range and were removed from the study. Though sectors with en-route stops were used, ie Gatwick - Lusaka was routed via Cairo.

Some notable return routes and sectors were studied, many would help make up routes which were in the 4 phase plan:-

Gatwick - New York,
Gatwick - Madrid - Las Palmas - Rio - Buenos Aires - Santiago - Easter Island
Easter Island - Tahiti - Auckland - Sydney - Perth - Mauritius
Gatwick - Belfast - New York
Gatwick - Belfast - Montreal - Toronto - Vancouver
Gatwick - Las Palmas - Freetown
Gatwick - Cairo - Lusaka - J'burg

Below a selection of the pages within this section
Payload Improvements
There were some payload restrictions identified in the study, the majority due to available runway length at Gatwick and Belfast. The study recommended a 1000 foot extenstion to both airports to enable fully laden services to depart for Montreal and New York. Neither airport's runway had kept pace with the development of jet aircraft and the larger aircraft coming into service. (Gatwick would be extended by 1970 and Belfast in 1972).

Other limitations identified were:-

Gatwick - Freetown due to take off limitations at Gatwick
Lusaka - Cairo due to take off limitation in Lusaka
Nairobi and Mauritius - Malagasy due to the landing limitations at Malagasy (Madagascar)
Mauritius - Perth due to take off limitations in Mauritius and the range / distance
Perth - Mauritius due to range / distance
Las Palmas - Rio due to the range / distance.

Some of these could be mitigated by short runway extensions, Malagasy only needed a 300ft extension. The range issues were in part mitigated by adopting different cruise climb profiles, on Perth - Mauritius it was possible to increase from 120 passengers to 126 passengers with fuel saving climb and cruise measures. Though Las Palmas - Rio was just too far and only a 600kg payload increase was possible with fuel saving profiles.
Operating Costs
In 1968 a Concorde was relatively inexpensive (by today's standard), the Aircraft Equipped cost was £7,708,000; a shade under £8million. But with spares it came to some £9.38Million.

The annual depreciation was £781,000 and based on 3600hours utilisation that worked out to be £216 per hour flown.

The fixed costs per hour, crewing, was given to be £294 per hour, this cost worked on havng 6 crews per aircraft.

The variable costs per flight, including maintenance, meals, landing fees, fuel etc, were factored in in blocks per flight. Meals were costed at 48d per seat, thats 20p in today's money give or take a bit. Though I'm sure money went further in 1968!

To the right is a typical Sector costing sheet with the calculated costs per seat per nautical mile
Sadly the BAC / SUD study on Concorde operations for BUA did not include an artists impression or even a drawing of what a BUA liveried Concorde would have looked like, but I have had a go and I think they would have looked pretty good!

I hope you enjoyed the page and any additional information always appreciated

please drop me a line anytime
---
www.british-caledonian.com