Hilary Coleman
BUA Chief Hostess (Training) / BCal Supervisor Special Services

It is with great sadness I learn that Hilary has passed away. My sincere condolences go out to her family, friends and former colleagues at this difficult time. Hilary was 98 and suffered a fall at home; which she did not recover from.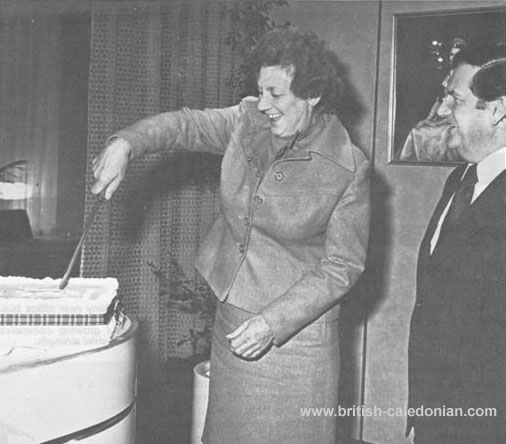 Hilary was a Chief Petty Officer in the WRENs during WWII. She was engaged to her fiancé Hugh, but he was tragically killed when flying his Typhoon back from a sortie. Hilary never married.

After the war Hilary started work with Scottish Airlines. She moved to Hunting-Clan, then on into BUA as Chief Hostess (Training) by 1963.

She was in that role when the Hermes aircraft arrived on the Perimeter Road at Gatwick and would oversee its opening as the air hostess trainer, later the Cabin Services Training Unit.

When she finished flying she was appointed BUA Airports Visits Officer in 1964 and was responsible for the VIP Lounge and also for handling the growing number of requests for tours around the BUA facilities by the Travel Trade and public alike. A Visitors room, BUA VIP Lounge and Hilary's office we all opened in the main terminal at Gatwick.

She went on into BCal and become Supervisor Special Services; opening and looking after the prestigious Clansman Lounge amongst her duties.
Hilary Remembered


From Patricia Todd
The world is a very sad place today - laughter is the only thing that keeps us going, and Hilary knew how to make people laugh and be happy. Her story telling was famous, she always had everyone laughing, you had to know Hillary to appreciate her humour, stories, laughter and the 'malapropisms'. Hilary will be very sadly missed, a very dear lady who will be fondly remembered by so many people who knew her.

From Dave Thaxter
Hilary was not on the internet, but she happily became a member of my postal newsletter group. I had the chance to ring her a couple of times and we exchanged letters. She was very pleased to still be connected to the BCal community and was always interested in what was happening and how people were getting on through the news. I for one will miss her and her wonderful letters.

From Tony Cocklin
Very sad news, indeed. Hilary was a wonderful lady - a true professional, totally dedicated. She was an inspiration to those who worked alongside her and set very high standards. At the same time, Hilary was so much fun to be with. They just don't make them like that anymore.

From Alastair Pugh
Many thanks for letting me know. I hadn't realised that Hilary was 98. She leaves good memories.

From Lynne Wilson (now Le Maitre)
I was quite shocked to read of Hilary's passing. I first worked with Hilary in the BUA days in Special Services and before the VIP/ First Class lounge even had the name Clansman Lounge. We had a diverse range of duties in the Special Services department in those days which included arranging to have stretchers fitted to bring in patients and medical cases from down route as well as looking after the First Class passengers and VIPs. Hilary was always cheerful and full of laughter and I remember particularly her puzzlement when we first became involved with computers and were sent passenger lists which had been computer generated, often with the first letters of names missing! Hilary refused to believe that mistakes were possible by computer so insisted we looked out for these people with strange names!! I last saw Hilary at her retirement party in 1981 but we still exchanged Christmas cards and letters till last Christmas.

Lynne also recalls a funny memory from Hilary's retirement. "Everyone clubbed together and bought her a corner cabinet. When it was all wrapped up it looked like a coffin and she joked that that was what we had bought her ready for her retirement!!"

From Patricia Gray (now Sheldon)
I worked with Hilary in the Clansman Lounge in 1979-1981. She was always fun to work with and "one of the girls!" My condolences go out to her family.

From Brian Russell
I remember Hilary Coleman so very well. When Caledonian took over BUA there were some real professional stalwarts. Some of us were Passenger Officers with regular contact with the lounge and how well I remember the small group of professionals who in those days ran it like a private club. It was in truth a little intimidating because between them they had seen the world and had vastly more experience than us, well certainly than me. I often felt like a boy when dealing with Hilary although she was always very kind and generous with her time. But what an era that was - it was very personal, there were relationships with regular First Class Customers - there were no wide body aircraft so less guests and more care. There was protocol and high standards - it wasn't all peanuts and outsourced staff so the entire experience was special - a product of a passing era. Hilary was lovely - she had an enormous sense of loyalty and good humour and the Lounge was very much run as a special place, made more so by her exacting standards. It is a sad fact that people come and go and only in their passing can we stop and reflect on the wonderful people we have had the good fortune to meet along the way. What stories Hilary would have to tell. RIP

From Seona Craig : I remember Hilary well - she was a special lady!

From Elizabeth Lockhart-Mure : So sad about Hilary, I remember her so well.

From Una Allman : Remember her well when I trained in the Hermes in 1964

From Alan Reeves : So sorry to hear, now she was a legend!


Sincere condolences are also extended by
James Germain, Mike Platt, Caron Phillips, Marjorie Anglesea Jackson and Joanna Dyckes





If you would like to leave a message in remembrance please drop me a line anytime




Close this page





.
Hilary's funeral service was held on Tuesday 11th July 2017 at Scunthorpe's Woodlands Crematorium. (Map here)