The Helicopters Gallery Part 3

Fison-Airwork / BUA Helicopters / Bristows
---

| | | |
| --- | --- | --- |
| | | |
| Bristow G-APTE Widgeon 30-05-1959 | BUA G-APMP Hillier at Redhill | Bristow G-APJN at Hiller Middle Wallop 06-07-1963 |
| | | |
| Bristows G-AOHE S55 at Redhil 03-05-1964 | Bristows G-APRW S55 at Redhill | Bristow G-APRW S55 at Redhill |
British United Airways Hiller G-APMP at Redhill on 16-09-1961
British United Airways interest in helicopters started from a collaboration between Airwork and a company called Fisons. Fison had started out as Pest Control Limited in 1945. Negotiations between Airwork and Fisons Pest Control bore fruit in May 1955 when the two companies agreed to start a new joint venture, Fison-Airwork.

Airwork had been undertaking various pest control activities in Africa with fixed wing aircraft and it was a market that Fisons were in with their fleet of eight Hiller Helicopters, Fisons also provided the insecticides used. Airwork brought their charter and airline experience to the company; they would also open a helicopter pilot training school which also offered ground maintenance courses.
Fisons-Airwork were based at Cambridge Airport, where Fison's helicopter fleet operated from.

Fison-Airwork made their first helicopter passenger flight in late May 1955 when Billy Butlin, of Butlins Holiday Parks, chartered one of their Hillers to fly him from London to Bolton to open a new sports pavilion.

March saw the delivery of two Westland Whirlwinds to Fison-Airwork for their first foray into oil field operations. They were bought to service a contract won from Shell to support their exploration for oil in Nigeria.
One of Fison-Airwork's Westland S55 Whirlwinds on the dock after arriving in Nigeria. You can just see the joint name on the nose.
Fison-Airwork's operations grew steadily and by May 1959, they were operating 28 Hiller's on crop-spraying contracts worldwide, five Whirlwinds in Nigeria on oil operations and some fixed wing spraying-aircraft in a subsidiary they started in Australia. By the end of 1959 Fison-Airwork were the largest helicopter operator, operating both at home and abroad.

In January 1960 Airwork Ltd bought out Bristow Helicopters with their fleet of 26 helicopters and a few small fixed-wing aircraft.

Soon after there followed the Airwork and Hunting-Clan merger announcement on 1st March 1970, and Fisons left their partnership with Airwork, citing the increased move towards the passenger airline business was not a direction they could follow. In April 1960 the name British United Airways was announced.


Bristow Helicopters had started out as Air Whaling in 1952, and Alan Bristow would often fly with whaling fleets as an advance spotter for the whaling ships. Though he was a Westland test pilot, after his Royal Navy service in WWII. Air Whaling became Bristow Helicopters in 1953 and were based in Somerset. They continued to grow their business, with work continuing in the Antarctic, various contracts supporting the oil industry in many parts of the world and increasing passenger work from Battersea heliport.

The Airwork takeover of Bristows happened just as they were planning their relocation to Redhill Aerodrome. This move was due to the increase in work from the Battersea Heliport, necessitating that Bristows be closer to it and by March 1960 they were on the move from Henstridge Airfield (Somerset) to Redhill. Fison-Airwork were due follow them to Redhill from Cambridge shortly afterwards on 13th April 1960 but Fison left the business a few before that planned move could happen.

Bristow Helicopters merged into the British United Group on 1st July 1960. Though they retained their identity and operated in co-ordination with Airwork's helicopter fleet within the BUA Group. Airworks helicopter fleet became the BUA helicopter fleet, though eventually all helicopter operations were passed to Bristows.

Bristow Helicopters were not included in the Caledonian / BUA takeover deal in November 1970. BCal Helicopters started from elsewhere....and more on that soon.

But below we have some of the early helicopter types fleet operated by BUA and Bristows.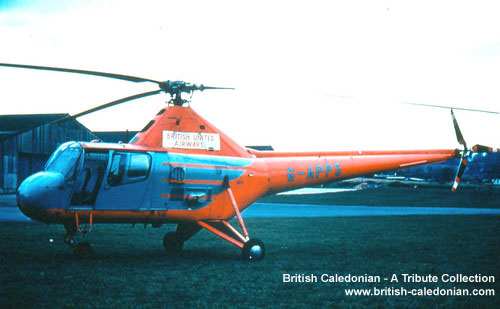 And to finish, quite a rare colour image of a BUA helicopter, cicra late in1961, at Redhill Aerodrome
G-APPS : Westland / Sikorsky S51 Widgeon

---
If you have any images you can share to show on the site, I would always be pleased to hear from you.
Please drop me a line anytime email