BCal's Inaugural VC10 to the Seychelles
Part 1


Please, if you have any photo's you can share or show on this site, please drop me a line anytime, email Dave
---
Recently some footage came to light showing BCal's inaugural VC10 service arriving at Mahe in the Seychelles on 4th July 1972. My thanks to Mike Butt for sharing the footage so we can all see it, it is in colour too.
The plans for services to the Seychelles went back to BUA days. BUA were awarded the right to fly services to the Seychelles in May 1970, as an extension on the Nairobi service.

The license was from 1st April 1971, though no start date had been set for services, as the airport at Mahe had yet to be completed (scheduled to be ready late in 1971).

Though any future passengers on the route would be able to take advantage of the latest BUA service. BUA were filming each take-off and landing so that budding home movie fans could purchase a home cine film of their flight to complete their holiday film shows.

Finally, after the new airport at Mahe was completed, plans were announced in March 1972 to open direct flights to the Seychelles with VC10 aircraft, in competition with BOAC. Services would start on 4th July 1972 and it would be flown every Tuesday as an extension from the Entebbe and Nairobi service.

The inaugural VC10 service, flown by G-ASIW, arrived at Mahe on schedule on 4th July, flying into the new airport with a film crew there to watch their arrival. The flight was met by the Seychelles' Chief Minister and the Deputy Governor, and heralded the start of tourism to the Seychelles. The aircraft stopped overnight in Mahe before heading back via Nairobi and Entebbe. Jeff Youtan was appointed as the District Sales Manager for the Seychelles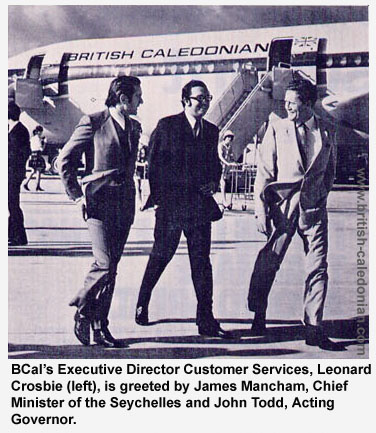 The two photos above are from BCal News. You may just be able to see in the left hand photo a tripod.....possibly with a film camera on it.

Well, below we have some of the footage, courtesy of Mike Butt......that may have been taken in part by these three and their soundman.
Mike collects films and photos that feature the Seychelles.
If have any you can share with him please drop me a line and I will put you in contact with Mike