"Spirit of Caledonia" Avro Lancaster Type 683 Mk 10 : May 1975
Now, similar name aside, what could a Canadian built Avro Lancaster have to do with BCal?
Built near the close of the Second World War by the Victory Aircraft Company, she was sent to England to serve with the City of Vancouver Squadron 405.

Though she arrived in May 1945 and was too late to fly a hostile mission and returned to Canada in June 1945 and for the next 19 years she flew in northern Canada on mapping duty with Maritime Command of the Royal Canadian Air Force (RCAF) as KB976.

In 1964 she was bought by a Calgary aircraft collector (now registered CF-AMD) who sold her in 1969 to Northwestern Air Lease Ltd of St. Albert, for use as a water bomber (now registered CF-TQC). That did not work out and the conversion work was never completed. The Toronto-built bomber then sat idle for three years at an airfield five miles northwest of St. Albert.

In 1974 she was sold to Sir William Roberts, of Auchterarder, Scotland, owner of the Strathallan Aircraft Collection in Perthshire. She was named Spirit of Caledonia and would be registered G-BCOH.

But first she had to be readied for the flight to Scotland and Dick Richardson, one of the aero engineers from Strathallan, flew to Canada and spent two weeks preparing her for the 5,500 mile Atlantic crossing.


Lancaster G-BCOH at Abbotsinch in May 1975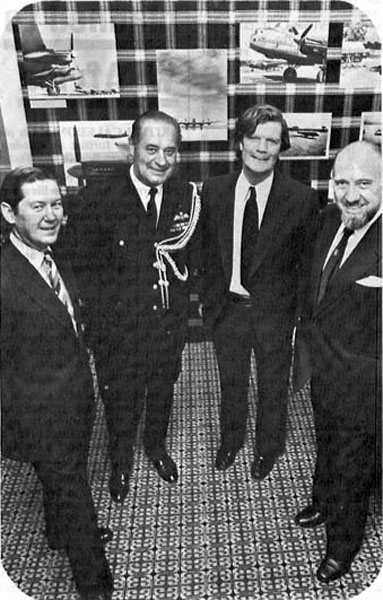 This included locating and salvaging the bomb bay doors from a farm where they had been discarded during the tanker conversion works.

Spirit of Caledonia was in the air for 34 hours, flying by way of Toronto, Gander and Reykjavik (Iceland) to Scotland by the five-man flight crew over six days.

Three officers of British Caledonian Airways Ltd were part of the initial flight crew; all were former Lancaster crew in WWII. Captain MacKenzie, BCalís Flight Operations Director, was in command with Co-pilot Gerry Moore and Navigator David Kemp, Strathallanís Dick Richardson was onboard and Roy Sharkey, a flight engineer with Wardair Canada, was the fifth team member.

BCal Flight Engineer Stan Banfield replaced Roy Sharkey for the Atlantic crossing.

They arrived safely on 20th May 1975

A reception was held after their arrival, hosted by Colonel Frank Kaufman, Senior Liaison Officer (Air Force) of the Canadian Defence Liaison Staff in London, in honour of the last flight of Spirit of Caledonia and the British Caledonian crew who flew the aircraft to Scotland.

On the right we have:
Mr J M Ritchie, British Caledonian External Affairs Director, Colonel Frank Kaufman, Sir William Roberts of Strathallan, Captain P A Mackenzie (DSO, DFC) British Caledonian Director Flight Operations.


But as with all things aviation, the story does not end there.

Running airlines is not for the faint hearted and the same goes the same for aircraft museums, and after spending many years in the Strathallan Collection our Lancaster was sold in 1987 to Charles Church. The Strathallan museum eventually closed its doors a few years later.
But that aside our Lancaster was trucked to BAe Woodford for restoration to airworthy on 9th April 1987.....then the hangar roof collapsed on 12th August 1987. The rebuild was abandoned.

But, in November 1988 she arrived in Bedford (along with Lancaster sections from KB944 & RF342) for a planned rebuild by the Cranfield Institute of Technology. She sat stored until 1990.

Warbirds Of GB Ltd, Biggin Hill, bought her in August 1990 and planned to undertake the rebuild, using the parts from KB994 & Lincoln RF342.

Though they sold her to Kermit Weeks of Weeks Air Museum / Fantasy of Flight, Polk City, Florida in 1992 and is given as "Under restoration".

Below some photos of G-BCOH.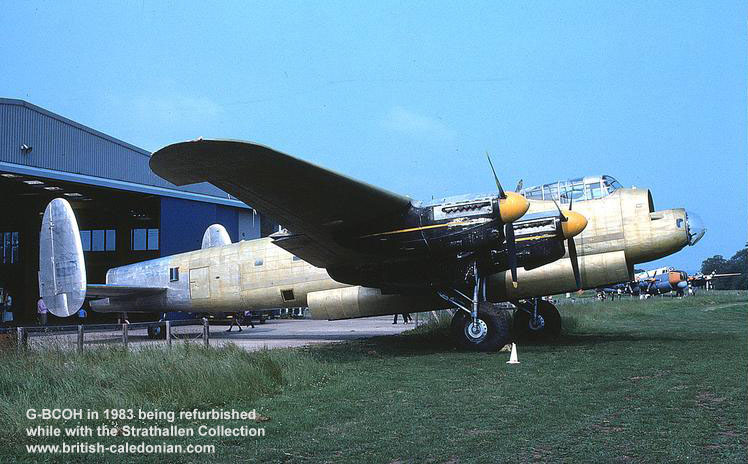 My thanks to Andrew Hilton for sending in these super photos of the team that brought the Lancaster, Spirit of Caledonia, over from Canada and there some superb inflight photos too.

The following images are all courtesy of Dick Richardson, he was the Strathallan Chief Engineer who was the lead in getting the aircraft airworthy in Canada and one of the crew who flew over to Scotland in her.
G-BCOH Spirit of Caledonia at Toronto International
Page 2




If you have any information (or photos) you can add, I would be pleased to include it here, please drop me a line BCalatribute@outlook.com





.