The Frank Skilbeck Gallery Pt 1

And now we have a recollection to share, from Frank Skilbeck


Shirley Bassey: "I wish I could be a Caledonian girl"

No, that does not represent a recent wish by the famous British songstress; it was voiced back in 1984 (or was it '85?) when Shirley Bassey toured the Gulf states of Bahrain, Abu Dhabi, and Dubai with an entourage that included her twenty-one-piece orchestra. Her Gulf tour started and finished in the Emirate of Dubai, courtesy of British Caledonian Airways.

The good news was Ms Bassey's flight left Gatwick on time.

The bad news was the orchestra's instruments were left on the ramp!

The other bad news was when Ms Bassey got the news, she raged, displaying a temper that could freeze a corpse. "I will sue you, your chairman and everyone in the airline," she promised, as she paced around the pool at the Hilton Beach Resort with her manager in tow. She was up at 30,000 feet and climbing.

The good news was the band's instruments were loaded on the next flight and arrived in Dubai with one day to spare before the tour began in Bahrain, to which the entire Bassey entourage flew from Dubai courtesy of Gulf Airways.

Whether the instruments were left on the ramp at Gatwick accidentally, or were objects of something more sinister, we never found out. But somebody somewhere must know. So, own up, don't be shy!

The tour received great acclaim in Bahrain, Abu Dhabi, and lastly at Dubai at the World Trade Centre, the most prestigious venue to be found in those days. The illustrious audience comprised sponsors' and guests from the government, state enterprises, and the private sector and included many of the emirate's well-heeled "sons of the desert", with a generous sprinkling of international expatriates and their spouses.
---
As always, any thoughts if you recall Ms Bassey's trip always welcome


bcalatribute@outlook.com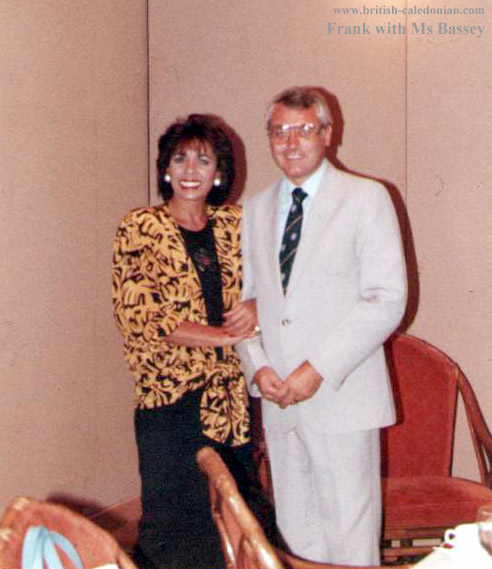 But that's not where the story ends.

Happy and carefree, Ms Bassey was sufficiently inspired to exercise her credit cards in the duty free shopping zone, flitting from counter to counter picking up perfumes, watches and jewellery and spending like a drunken sailor.

"The aircraft doors will close in ten minutes, Ms Bassey," we told her.

"No, it won't," she declared, "they will wait for me."

Pre-warned about Ms Bassey's free-spending shopping spree, the crew had partially shut the forward door in preparation for start-up. Ms Bassey saw this and picked up her pace.

At the top of the steps, she turned and shouted aloud, "Thank you for everything. I wish I could be a Caledonian girl!"

By Frank Skilbeck

Dubaians, clad in local garb, populated the first several rows of the auditorium. Ms Bassey looked out on a sea of spotless, white dishdashas. Every man (there were no women in those rows of course) got to their feet to give Ms Bassey a standing ovation when she sang "Big Spender", as evocatively and suggestively as her gown permitted. "Sing it again Shirley," a dishdash called out.

Performance over, we escorted Ms Bassey to the Dubai International Hotel (airport hotel in those days) to change into something more comfortable and enjoy a late meal. As it happened, the hotel featured a large Filipino band with a trio of Filipina vocalists. They were good, very good. In fact, when the band played some of Ms Bassey's numbers one of the group came over to her table and sang "I (Who Have Nothing)", the songbird sprung from her seat and hugged her shouting, "You are good, you are so good. You sang that better than I ever could."

It was time to leave for the airport.

BCAL's cabin crew; perfectly groomed and ready for the Gatwick-bound flight, passed by the hotel dining room on their way to board the bus for the airport. Ms Bassey spotted them and, skipping alongside a dozen surprised air hostesses, she began to sing, "I wish we all could be Caledonian girls". Someone somewhere must remember this moment because it was an impromptu but masterly piece of timing and set the atmosphere for a good trip home.

Frank with Ms Shirley Bassey - 1984